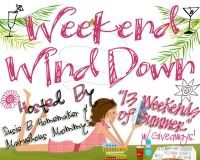 This week's question:With Labor Day weekend just passing, what is your favorite holiday and why?
My favorite holiday is Christmas! I know that is probably what everyone says but I love Christmas. Time with the family, the lights and decorations, the joy on my

children's

faces. I am excited because this year Elijah is old enough to understand more about what is going on!
And last but

definitely

not least Christmas is the celebration of my Saviour, Jesus Christ!